Welcome Guest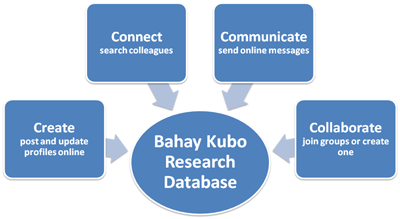 Welcome to the Bahay Kubo Research Database, another Bahay Kubo Research (BKR) initiative to link Filipino researchers from all over the world. This database allows registered researchers to directly post and update their research profiles online and search profiles of other Filipino researchers.
By joining the database, you will be able to connect with other Filipino researchers who are working in the same or related field. Your research profile will also be visible to other researchers who are looking for potential collaborators, and other parties who might be interested in your work.
Create, connect, communicate, collaborate.. here at the Bahay Kubo Research Database.
Recent Articles
| | |
| --- | --- |
| It's been awhile since we've updated or added features to the BKR database. Today, we are happy to announce additional features recently implemented to enhance the database's functionality. The main motivation of these enhancements is to increase the visibility of the research output of ... | |
| I would just like to share this info from the BKR fan page in Facebook. The numbers indicate how far we are falling behind our neighbors in terms of research output. Here is a comparison of the number of research articles published in 2010 from some ASEAN countries: ... | |
| UP fetes 28 top alumni UP Philippine Daily Inquirer First Posted 00:51:00 06/19/2009 Filed Under: Education MANILA, Philippines—The University of the Philippines Alumni Association will recognize the achievements of 28 distinguished alumni at UP's first post-Cen... | |
| Atty. J. Raoul C. Dizon, The Business Daily dated June 5, 1998 Ka Val of TUCP recently remarked it does not take an intellectual President to advance the country's progress. Among the things he simply needs to do, he said, is visit UP Los Banos and witness the wonderful R&D that goes on t... | |
| A. V. Valerio, Vice-President, TUCP Manila Standard, Opinion Section B dated Thursday June 11, 1998 I am glad that Atty. Raoul Dizon, Columnist of the Business Daily, wrote about Dr. Luciano Talens, the UP Los Banos-based scientist given by the Department of Science and Technology (DoST) a &qu... | |
| PNA Times Journal dated June 11, 1980 A new technique which rapidly detects plant viruses has been discovered by virologists at the University of the Philippines at Los Banos. The technique, counterimmunoelectrophoretic assay (Ciepa), is useful in the early diagnosis of six Philippine plant viruse... | |
| You can now display the information currently stored in the BKR database right in your own website or in any web page you choose. This means that you only need to update your research profile in the BKR database and the updated information will immediately appear in those web pages. No need to updat... | |
| I would like to announce the availability of the beta version of the Bahay Kubo Research Database Facebook application. You can find the application in this URL: http://apps.facebook.com/bkrdatabase/. If you have a Facebook account, you can use this application to pull the information from the dat... | |
| Posting this invitation to all Filipino physicists. If you are one, please read on. Dear Colleagues, In cooperation with the International Union of Pure and Applied Physics conferences on women in physics, please join the 2009 Global Survey of Physicists: Here is the web address: http://... | |
| Registered users of the BKR database can now automatically generate their curriculum vitae (CV) online. The content of the CV is dynamically generated using the information stored in the database and includes publication list, educational background, work history, and academic awards, among others. ... | |
List of Researchers
active 5 months, 6 days, 22 hours ago.




---

active 5 months, 21 days, 7 hours ago.




---

active 5 months, 25 days, 21 hours ago.




---

active 1 year, 1 month, 17 days ago.




---

active 1 year, 1 month, 25 days ago.




---

active 1 year, 3 months, 6 hours ago.




---

active 1 year, 4 months, 11 days ago.




---

active 1 year, 6 months, 9 days ago.




---

active 1 year, 10 months, 27 days ago.




---

active 2 years, 3 months, 20 days ago.




---
Available Groups
created 7 years, 4 months, 1 day ago.




---

created 8 years, 7 months, 12 days ago.




---